The Avison Ensemble Young Musicians' Awards
Young musicians and singers are invited to take part in our annual music award sponsored by The Avison Ensemble

The Avison Ensemble Young Musician's Awards were set up in 2006 to encourage young musical talent across the North East Region. The entrants to the Awards receive tuition and guidance, as well as important encouragement to continue their musical education. Everyone taking part in this event is given the same expert advice and assessments. The finalists are also assessed on their talents for live performance.
The Awards themselves are four beautiful, unique engraved glass trophies, created by Dominic Fondé, a local glass artist and inscribed with music from the Avison workbooks. The Awards will be displayed in the winners' schools. The winners will also receive a small cash prize.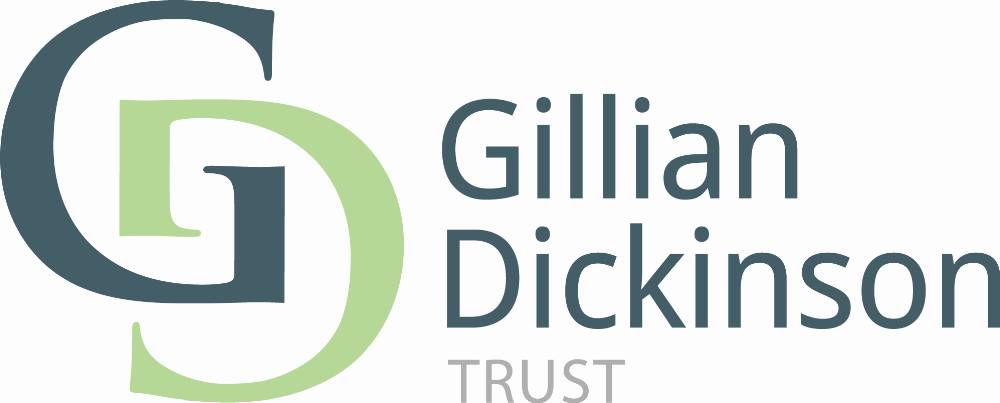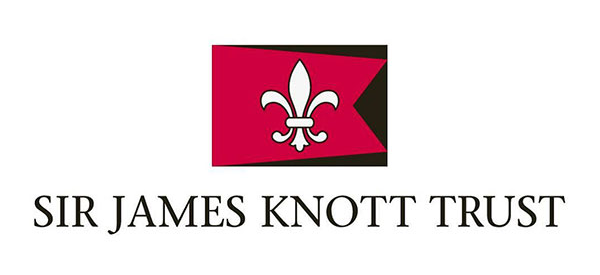 We are grateful to the following for supporting this year's Young Musicians' Awards: The Gillian Dickinson Trust, The Hays Travel Foundation and The Sir James Knott Trust.
We are grateful for our sponsors' support for this outreach programme in previous years:
The Esmée Fairbairn Foundation
The Northern Rock Foundation
The Rothley Trust
The Roland Cookson Fund at the Community Foundation
Joel Cohen and Andrea Toon
The Competition
Any young musician, up to the age of 19, from the North East Region can join in.
Students are invited to perform two pieces of music, one of which must be by an 18th Century composer of their choice, on any instrument or voice. Performers should provide their own accompanist (if required). A harpsichord is available if required.
There are four categories available to entrants, each category having its own prize for the winning entrant. Entrants to all categories will be asked to perform two contrasting pieces (maximum 6 minutes overall) and music grades will be formed into the following categories:
Category A (Grades 1, 2 & 3 or equivalent)
Category B (Grades 4, 5 & 6 or equivalent)
Category C (Grade 7 or equivalent and above)
Category D (Small classical music groups – Chamber ensembles with no more than 8 players)
The assessors will be Gordon Dixon (Executive Director of the Avison Ensemble) and other eminent musicians and music education advisors or players. We hope to offer all entrants the opportunity of master classes and advice from distinguished international musicians at various stages of the competition.
The 2017 Awards - winners and highlights
The Young Musicians' Awards 2017 Finals were held on Sunday 26th February 2017 at the Literary and Philosophical Society, Newcastle. The Awards assessors heard eleven finalists for the four categories of Grades 1-3, Grades 4 - 6 and Grades 7 and 8 and Grade 8 and above, and two ensembles.
The 2017 Awards winners were:
Grades 1-3 category: Milo Collin (violin)
Grades 4-6 category : Elin Devine-Douglass (viola)
Grades 7 and 8: joint winners - Joshua Connor (cello) and Pamelina Oubinova (voice)
Grade 8 and above: Isabella Thorneycroft (flute)
Small ensemble: piano trio - Cameron Walls (piano), Roberto Haubold (violin) and Fynn Boisseau Hardman (violin)
The winners performed at our Awards Winners' Concert on Saturday 6th May 2017 at the Lit and Phil where they were presented with their Awards engraved with their names.


Highlights from our previous Awards Finals can be seen on FLICKR: 2016 | 2015 | 2014 | 2013 | 2012 | 2011 | 2010 and YOUTUBE: 2012 | 2011 | 2010 | 2009 part 1 | 2009 part 2 | 2009 part 3

We're grateful to The Literary and Philosophical Society for hosting this year's Finals and for generously presenting each of the winners with a year's membership of their Library.
For further information about the awards please email us. We also welcome enquiries from music teachers. If you are a music teacher and would like to know how to get your students involved, please email us.
Previous Young Musicians' Awards winner Sarah Gardner performs at the Royal Albert Hall, September 2012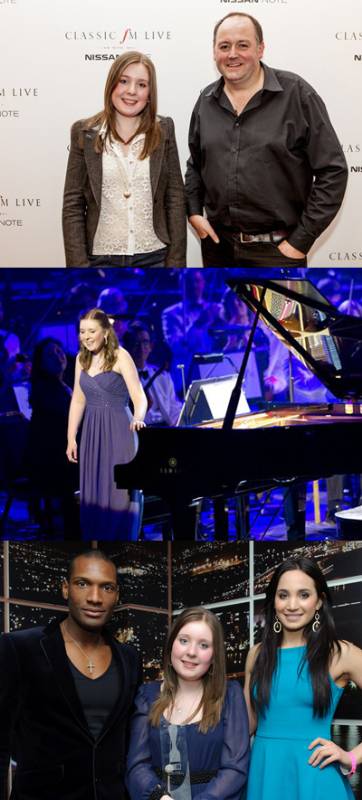 Sarah Gardner was one of our Young Musicians' Awards winners in 2011 and she won the 2012 Next Brit Thing classical music award. As part of her Next Brit Thing prize she performed to a capacity audience at the Royal Albert Hall during the Classic FM Live 2012 20th birthday concert on Monday 24 September 2012. She performed Rachmaninov's Prelude: Alla Marcia in G minor from Preludes Op 23.
Photos of Sarah at the Classic FM concert can be viewed here.
Read more about Sarah's Next Brit Thing award here and watch her performance on YouTube here.
Sarah has recently accepted a scholarship to the Royal Academy of Music for September 2013.
Images:
Top Sarah with Classic FM presenter Tim Lihoreau at Classic FM Live 2012
Middle Sarah on stage at the Royal Albert Hall performing Rachmaninov's Prelude in G minor
Bottom Sarah collecting her Next Brit Thing 2012 award from tenor Noah Stewart and soprano Laura Wright at Indigo2 in March 2012