The Avison Ensemble presents
Ben Zander's The Art of Possibility -
Leadership and transformation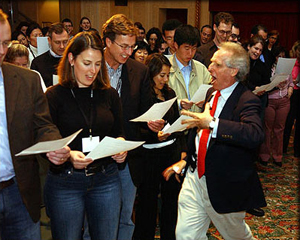 Ben is one of the most sought-after speakers in the world. Bringing his insights as the conductor of major symphony orchestras to business leaders involved in transformation and change, Ben Zander has become a much sought-after speaker to major organizations all over the world including Shell, IBM, Arthur Andersen, KPMG, Sprint, NASA and the US Army.
Here's recent praise from Logica's CEO Andy Green:
'Benjamin fired up the team ...'
'Benjamin fired up the team at a crucial time creating a real sense of openness for change and a sense of ownership and collaboration. And we all had such fun doing it! Truly world class. … The team was spellbound during your presentation and it was a fantastic way to lift the mood during what is a challenging time for all businesses. It really has opened our eyes to the art of possibility and I know the team was buzzing about it all night. It will go down in the annals of Logica as being one of the most inspirational moments we have ever experienced as a team.' Andy Green, CEO Logica, June 2012
At the 1999 World Economic Forum in Davos Ben received the Crystal Award a for "outstanding contributions in the arts and international relations" and in 2002 he was awarded the "Caring Citizen of the Humanities" Award by the International Council for Caring Communities at the United Nations.
He and his partner Rosamund Zander collaborated on a best-selling book, "The Art of Possibility" which has been translated into fifteen languages. Ben has also been the subject of a full-length BBC documentary which aired world-wide, was featured on CBS's 60 Minutes and is the subject of Fast Company articles, among others.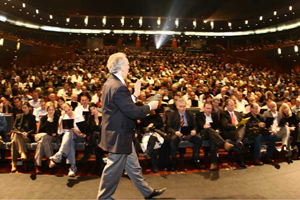 Ben Zander's keynote presentations bring his passion for greatness to audiences in a way that transforms them. Audience members leave with a compelling new understanding of leadership, teamwork and the keys to their own happiness and improved performance. Using music as both a metaphor and a medium, Zander's presentations are a high-energy tour de force. Ben Zander paces the stage . . . walks through the audience . . . cajoles, teases, chides. . . plays the piano . . . and rouses audience members to belt out joyous harmonies. The presentation takes the audience on a journey that offers a startling new perspective on leadership. Through stories, music and concepts it causes a radical shift in perception. This is not a speech, it is an experience!
Here are just a couple of reviews from Ben's transformational presentations:
'Ben Zander's teaching transforms entire teams through 'possibility' ...'
'If you want to take your leadership skills to the next level, study the Art of Possibility with Ben Zander. In his presentation Ben explodes traditional leadership thinking and takes leadership out of the closet. He blows the door with its hinges off that closet, and you can never go back after working with Ben. His leadership view is unconventional, irreverent and bold. Its impact is without boundaries. I have seen Ben Zander's teaching transforms entire teams through 'possibility' in ways that are nothing short of magical with results that are nothing short of exemplary. He is a catalyst for excellence.' Roseanna DeMaria, previously First Vice President, Leadership & Performance, Merrill Lynch, now Adjunct Associate Professor & Chief Learning Officer NYU SCPS
'An extremely inspiring programme ...'
'Simply put, Ben Zander was utterly amazing ... the entire Leadership Team was blown away. On top of being a captivating speaker, he tailored his message very well to us and delivered an extremely inspiring programme perfectly suited to the theme of the meeting. I cannot say enough good about it.' LEGO
To find out more about Ben and leadership transformation click here.